Download Instagram Highlights, Stories, Reels, Videos, etc.
Instagram has become one of the most popular social media platforms, allowing users to share their daily lives through captivating photos and videos. One of the standout features of Instagram is the Stories feature, which enables users to share temporary content that disappears after 24 hours. To help preserve those cherished moments, many users seek ways to download Instagram Highlights – the saved Stories that can be viewed anytime. In this article, we will explore various methods and tools that allow you to download Instagram Highlights and keep your memories alive.
MPXSoft Media Catcher – An Excellent Instagram Highlights Downloader
If you can't directly save Instagram highlights videos, you can utilize MPXSoft Media Catcher, an online video downloader which can download Instagram Highlights, Stories, Reels, etc. and videos from other 1,000+ sites.
Instagram Highlights are an excellent way to showcase your best moments, whether it's memorable trips, special events, or creative projects. However, due to the temporary nature of Stories, they can be lost forever if not preserved. Downloading Instagram Highlights ensures that you can revisit and enjoy these moments even after they disappear from the platform. FYI, you can use one of the following ways to save Instagram highlights and other videos easily and quickly.
Method 1. Instagram Highlights Download with Instagram's Built-in Archive Feature
Instagram offers a convenient built-in feature called "Archive" that allows you to save and revisit your Stories and Highlights. To save a Story to your Archive, simply click on the "..." icon at the bottom right corner of the Story and select "Archive". Archived Stories can be accessed privately in your profile's Archive section, and you can choose to add them to your Highlights for permanent display.
This way may can't save the videos offline on computer for further editing. If you are searching for a way to save Instagram Highlights to local folder on computer or phone, please go on to find a better way.
Method 2. Download Instagram Highlights via Instagram Highlights Downloader Software
If you prefer to have a local copy of your Instagram Highlights, several third-party applications can assist you. These tools often provide additional features and customization options to enhance your experience. It's important to choose reputable and trusted applications to ensure the security of your Instagram account.
MPXSoft Media Catcher is such a perfect tool you want. It delivers the fastest speed to download Instagram highlights, stories, reels, etc. videos in MP4 with original quality to PC. Besides Instagram videos, it can also download SD/HD/4K/3D/VR videos, movies, music, etc. from YouTube, Facebook, Twitter, Vimeo, Dailymotion, and similar sites in a flash. What's more, it is 100% safe bundled no adware, spyware, malware or virus.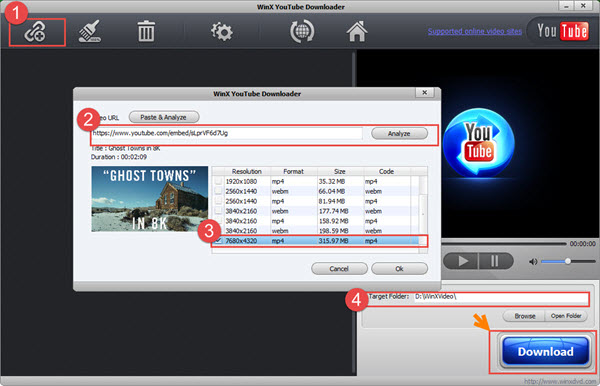 Step 1. Free download MPXSoft Media Catcher, install and launch it.
Step 2. Once copied the Instagram Highlights video URL, click the "Add URL" button in this software and input the Instagram video link to "Analyze" box.
Step 3. After parsing, select your desired video resolution and format, and press button OK.
Step 4. Now, choose a destination folder and tap the "RUN" button to start downloading Instagram Highlights video.
Method 3. Download Instagram Highlights with Online Instagram Video Downloader
There are numerous online tools specializing in downloading Instagram Highlights videos. Popular options include InDown.io, StorySaver.net, InstaSuperSave, Inflact, SSSGram, InstaStories.watch, etc.
Here we take InstaSuperSave as an example. In staSuperSave is an online service and application that allows users to download and save photos, videos, and other media content from Instagram. It provides a convenient way to save content from Instagram onto your device for offline viewing or sharing purposes. With InstaSuperSave, you can easily download and save Instagram highlights, stories, IGTV videos, and even profile pictures. Step 1. Find the Instagram Highlights video you want to save and copy the link.
Step 2. Visit the InstaSuperSave website or open the app on your device (iPhone or Android).
Step 3. Paste the copied link into the provided field.
Step 4. Click on the "Download" or "Save" button to start downloading Instagram highlights videos.
Instagram Highlights provide a means to curate and preserve your most cherished memories on the platform. Whether you utilize Instagram's built-in Archive feature or turn to third-party tools and applications, downloading Instagram Highlights allows you to revisit those fleeting moments and keep them close at hand. If needed, you can also download audio from Instagram Reels, Highlights, Stories, etc. with the way we introduced above.
[Warning!] While downloading Instagram Highlights is a great way to preserve your memories, it's crucial to respect the privacy and copyright of others. Always ensure that you have the necessary permissions to download and share someone else's content. If in doubt, reach out to the content creator and seek their consent.