Insta-Download 101: A Complete Guide to Download Instagram Stories
In the dynamic landscape of social media, Instagram stories have emerged as a dynamic form of expression, fostering connections and sharing moments. Yet, the ephemeral nature of these stories leaves users yearning to preserve their favorite memories. Fret not, as we delve into the intricacies of downloading Instagram stories, exploring a spectrum of methods.
This comprehensive guide covers not only the direct options within the Instagram app but also introduces alternatives like MPXSoft Media Catcher, StorySaver.net, and screen recorder, providing a wealth of choices for users seeking to immortalize their favorite Instagram moments.
MPXSoft Media Catcher- Best Instagram Story Downloader Recommended
MPXSoft Media Catcher is a wonderful Instagram video downloader to download Instagram videos, covering Stories, IGTV, reels, and other Insta streaming. All you need is to provide a link to the Instagram Story, and then it will save the Instagram Story offline, whether the story is yours or someone others'.
How to Download Instagram Stories
Method 1. Direct Download within Instagram App: A Simple Solution
The most straightforward method for downloading an Instagram story is through the platform's built-in features. Actually, there are a variety of ways to download Instagram stories in Instagram app, such as via story settings, in story screen, or via highlights. Follow these steps to seamlessly save a story to your device:
1. Use the Story Settings
Navigate to your profile and access "Settings."
Choose "Privacy," then select "Story."
Within this section, activate two options: a) "Save to gallery" ensures automatic saving of Story content to your phone's gallery, while b) "Save Story to archive" archives your Stories' content after the 24-hour Story lifespan. 2. Save Instagram Stories Dorectly in Story Screen
If you simply want to save your own Instagram stories, you get the option to save and download the Story before uploading it to Instagram. All you need to do is to click on the download icon before uploading the Story to save it.
3. Add Instagram Story to Highlights
Creating Highlights offers a lasting solution to preserve Stories beyond the 24-hour limit. Highlights can be crafted from active or archived Stories.
To create Highlight from an active Story:
Pick the active Story.
Click on Highlights.
Provide a name for the highlight.
Tap on Add to complete the process.
Crafting a Highlight from archived Stories involves these steps:
Access the Archive.
Select desired Stories for the highlight.
Click on Highlights.
Opt to Edit Cover for a highlight icon.
Assign a name to the highlight.
Tap Add to complete the process. Method 2. MPXSoft Media Catcher: Elevating Your Instagram Story Download Experience
For those seeking a more versatile solution to download Instagram Story, MPXSoft Media Catcher offers a reliable method for downloading Instagram stories, as well as other contents from Instagram. Besides, it also allows you to download videos from links in YouTube, Facebook, Twitch.tv, and 300+ video sharing sites. Follow these detailed steps for a hassle-free experience to download Instagram Stories:
Step 1. Start by downloading and installing MPXSoft Media Catcher on your computer. Ensure you get the latest version to benefit from any improvements or bug fixes.
Step 2. Open the Instagram app and navigate to the user's story you want to download. Copy the URL of the Instagram story from the address bar.
Step 3. Launch MPXSoft Media Catcher and paste the copied URL into the designated field. This step informs the free online video downloader about the specific content you want to save.
Step 4. Select your preferred download settings, such as the video quality and destination folder. MPXSoft Media Catcher provides options for various resolutions, ensuring you can tailor the download to your preferences.
Step 5. Click the "Download" button to start the process. The downloader will fetch the Instagram story and save it to your computer. Once complete, you can access the downloaded story offline at your convenience.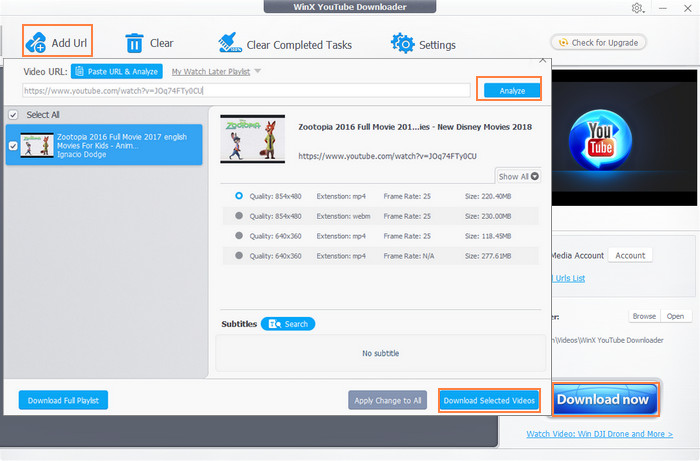 Method 3. StorySaver.net: Streamlined Online Solution
For those who don't want to download any software or plugins on their devices, online Instagram saver could be a nice option to download Instagram story offline. StorySaver.net offers a user-friendly online tool designed explicitly for downloading Instagram stories. Follow these steps to make the most of this convenient service:
Step 1. Open your preferred web browser and navigate to StorySaver.net. The website's intuitive interface makes it easy for users to find and download Instagram stories quickly.
Step 2. On the StorySaver.net homepage, enter the Instagram username of the account from which you want to download the story. This action directs the tool to the specific account and retrieves the available stories.
Step 3. Browse through the list of available stories and select the one you wish to download. StorySaver.net typically provides a preview of each story, making it easier to identify the content you want.
Step 4. Once you've selected the desired story, click on the download button. StorySaver.net will initiate the download process, saving the Instagram story to your device. Method 4. Screen Recorder: Capturing Every Story on Instagram
For those seeking a flexible and adaptable method to download Instagram stories, employing screen recording proves to be a viable and versatile option. By capturing the on-screen activity of the Instagram story, users can ensure they have a comprehensive and high-quality recording of the content they wish to preserve. This approach is particularly advantageous for individuals who value the inclusivity of entire stories, encompassing both images and videos seamlessly.
Step 1. Download a screen recording application from your device's app store or utilize the inherent screen recording features.
Step 2. Launch the screen recording app and configure it as per the provided instructions.
Step 3. Access the Instagram app or website and locate the desired story.
Step 4. Activate the screen recording app and commence recording the Instagram story in real-time.
Step 5. Upon completion, cease the screen recording app and store the captured video on your device for future access.
In Conclusion
The diverse methods outlined for downloading Instagram stories provide users with a spectrum of options to cater to their preferences. From the direct approach within the Instagram app to third-party tools like MPXSoft Media Catcher and StorySaver.net, and finally, the dynamic option of screen recording, each technique offers a unique set of advantages. Whether prioritizing simplicity, versatility, or comprehensive content capture, these approaches empower users to curate and preserve their favorite Instagram stories with ease.
However, it's crucial to navigate these methods ethically, respecting the privacy and intellectual property rights of content creators. As you explore these avenues, remember that the choice lies in your hands, allowing you to tailor the experience to suit your individual needs and preferences in the exciting realm of Instagram story downloads.