Top 10 Video Downloader Extensions to Save Videos from Chrome
Google Chrome is arguably the most popular browser, holding a whopping 65.13% of browser market share worldwide as of July 2021, according to StatCounter. Its good user experience is one of many merits that makes Chrome favorable. At this point, Chrome's seamless integration with third-party video downloaders is one of the typical examples. With these video downloader extensions installed on Chrome, the entire video downloading experience becomes all the more convenient.
There are a plethora of free video downloader Chrome extensions. So what is the best extension to download videos on Chrome? No need to find it somewhere else, here we share a handpicked list of the best Chrome video downloader extensions, which allow you to download videos in Chrome browser without a hassle.
Warm Prompt
1. Google Chrome prevents the extensions from downloading YouTube videos due to the program policy. If you want to download videos form YouTube, resort to download third-party video downloader software for help.
2. Any download of copyrighted content for unfair use is completely illegal. Please abide by the laws before doing so.
Top 10 Video Downloader Extensions for Chrome Browser
Top 10 Video Downloader Extensions for Chrome Browser
Please note that some extensions may slow down your Chrome browser or even be malicious. So first and foremost, make sure the very basic video downloader Chrome extension is clean without making your Chrome sluggish. Then a good video downloader is easy to navigate, and smart enough to download videos from as many as content platforms without a hassle. Just continue reading and check out the best video downloader extensions for Chrome.
Offered by: www.startpage24.com
Rating: 4.5
Users: 2,000,000+
When mentioning the most popular Google Chrome extensions to download videos, Video Downloader professional is second to none. With as many as 206,631 ratings, you can get a sense of how popular it is. And the test results prove that the extension makes the whole video download process fairly intuitive. It intelligently detects the videos playing on any website and leaves you do nothing but press the green arrow, choose the resolution and click Download. You can also play MP4 videos on Google Home or on your TV via Chromecast.
One thing to be aware that the video downloader extension locks the download of YouTube, Instagram, Dailymotion, Vk and Ticktok videos because of the Chrome Store policy. But it still works well with all other websites like Facbeook, Twitter, Vimeo, etc. If you've ever encountered the video not playing in chrome error, try the extension for help.
Pros:
Free and easy to use.
Various video resolution options.
Offers quick access to videos.
Cons:
Some videos downloaded are blurry.
Minimally €9,99 required for downloading videos from other sites.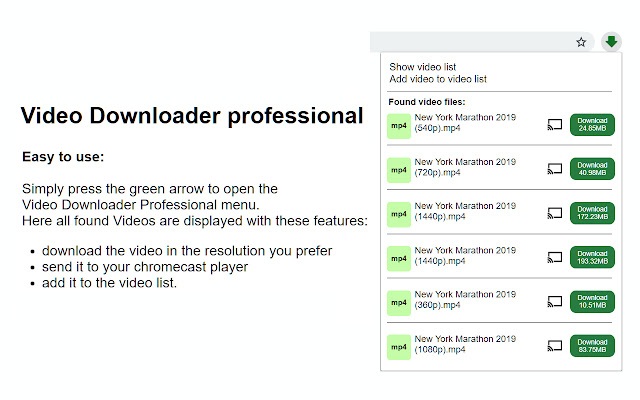 Offered by: vidow.io
Rating: 4.5
Users: 700,000+
Video Downloader Plus is another great video downloader extension integrated on your Chrome browser. Once installed, it gives you quick access to the videos on the website you want to download. It support over 1000 sites including Facebook, Instagram, Vimeo, Dailymotion, Vevo, Twitch, and Twitter. You can choose the preferred video resolution at up to 4k and cast the video instantly via Chromecast.
However, you cannot download 4k videos unless you go for a monthly or yearly subscription at $4.99 or $19.99 respectively.
Pros:
Intuitive and easy to use.
Cons:
A monthly subscription is required to download 4K videos.
Doesn't work with YouTube.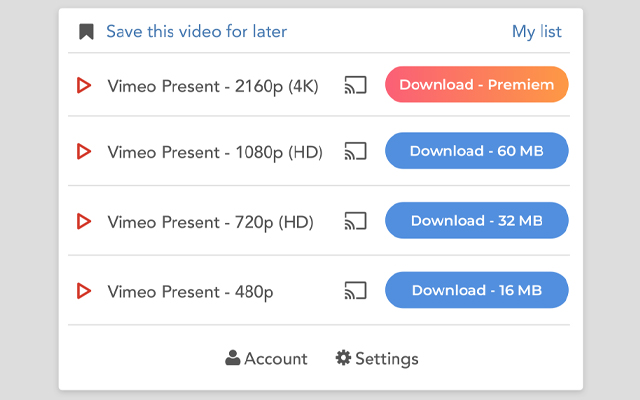 Offered by: videooctopus.com
Rating: 4.5
Users: 200,000+
If you are bored of the intrusive ads, you can install the Octopus Video Downloader plugin to download videos in your chrome browser. Just play the video, click the video download browser extension button, save the video in a resolution or size you prefer. Then you can enjoy the downloaded content on your computer from your comfort.
As a reliable video downloader extension for Chrome, Octopus allows you to download M3U8 ts, MP4, MP3, WebM, FLV, MOV, and OGG video from thousands of websites, including Vimeo, Dailymotion, Twitter, Instagram, Facebook, and SoundCloud. You can also choose the preferred files to download, based on duration, size, image quality and format. However, be aware that the video downloader by Octopus may redirect you to website with various intrusive ads, banners and pop-ups. This may expose your computer to a danger and that's why the Chrome constantly reported a malware in it.
Pros:
Support a wide range of file formats including M3U8.
Picture in Picture support.
Cons:
Cannot rename the file before download.
Contain intrusive ads or malware.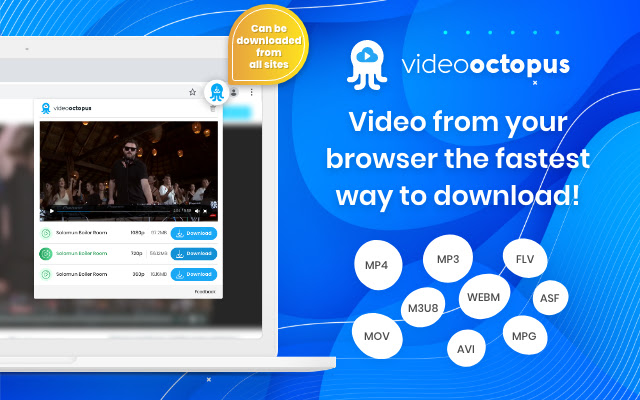 Offered by: www.downloadhelper.net
Rating: 4.5
Users: 2,000,000+
Originally known as a popular video downloader plug-in for Mozilla Firefox, the Video DownloadHelper is now available for Chrome browser. That means you can save the web videos to your local disc in one click when browsing videos in Chrome. In addition, you are also allowed to save image galleries to your local drive, rename files, download videos in batch.
Video DownloadHelper distinguishes itself from other video downloader Chrome extensions for its unique support of HLS (HTTP Live Streaming) and DASH (Dynamic Adaptive Streaming over HTTP) files. Be aware that the Video DownloadHelper extension for chrome doesn't work with YouTube, but you can try the Firefox version for the purpose.
Pros:
Support various files, including HLS and DASH.
Support downloading videos up to 4K.
Cons:
A companion application is required to convert the saved video.
Batch download comes with a little delay.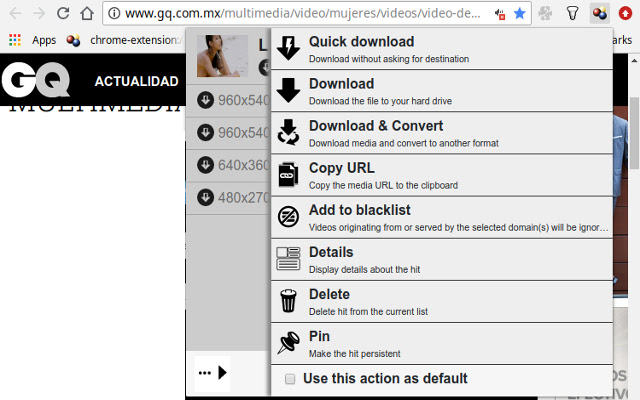 Offered by: Flashvideosaver.net
Rating: 4.5
Users: 200,000+
Flash Video Downloader is another good Chrome extension for video lovers to download videos to your computer. With the plug-in installed, you can free download HD videos or flash videos in either MP4, MOV, FLV, WebM or so.
The free Chrome video downloader extension is not as flexible as Video Downloader Professional, since you have to refresh the webpage to detect the video. But you can still try the extension, as it is totally free and easy to use. Just select the video file and open it, open the extension menu and press download button, then enjoy the saved video. There is no more delays and you can watch videos even without internet connection.
Pros:
Support downloading multiple videos at a time.
The user interface is customizable.
Cons:
Fail to access videos from Facebook, etc.
There is no rename option.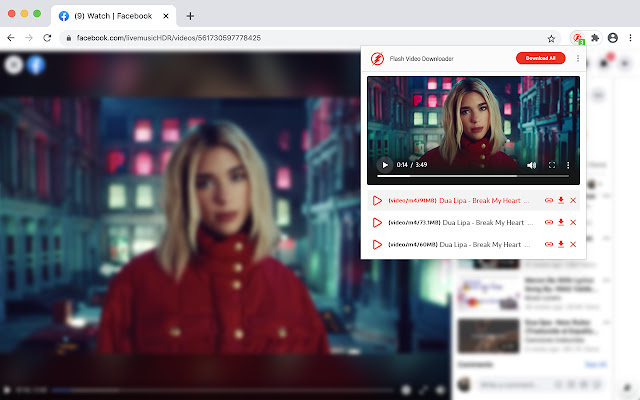 Offered by: webdownloader.net
Rating: 3.5
Users: 300,000+
Video Downloader for Web is a good video download extension across the Chrome store. It is highly praised for fast download speed, so you can save HD videos from almost all video hosting sites to your PC swiftly. It also supports various web video formats, e.g. MP4, MOV, FLV, AVI, ASF, MPEG, and more.
The video file information, e.g. file size and format, is available for you to check out before downloading. You can also preview the videos with the built-in player and then download the video to your hard disk. However, reloading websites is needed for a successful video detection.
Pros:
Support a diversified array of video file formats.
Build in a video player.
Cons:
Detecting files is troublesome as you have to refresh the website.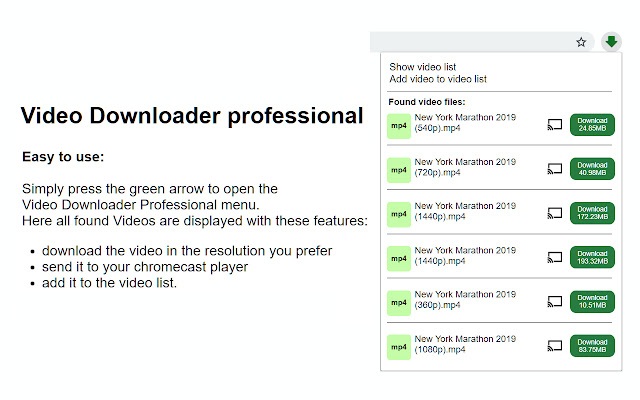 Offered by: Video Downloader Pro
Rating: 4.5
Users: 100,000+
If you want a robust video downloader chrome extension, Video Downloader Pro is the one you are looking for. This utility supports over 50 languages. It automatically detects videos on any content platform and prompts the user to download videos in the format in which it is present online. You will involve zero manual labor in downloading your favorite MP4, AVI, FLV, ASF, MPEG video and MP3, be it from Fcaebook or Twitter.
Pros:
Support variable file formats.
Cons:
You are informed of "Video not detected" error message when downloading some videos. Offered by: FBDOWN
Rating: 4.5
Users: 300,000+
FBDown Video Downloader is born to be a dedicated video downloader for Facebook. But the extension works even better as it also supports download videos from other social platforms including Vimeo, Dailymotion, Twitch, and so on to your device storage.
Apart from the video download extension you can install in your Chrome browser, there is another option. You can copy the URL of the video you like to download, paste it in the text box available on FBDown, and hit the download button.
Pros:
Straightforward interface.
Record video streams online.
Clean and no ads.
Cons:
Sometimes the downloaded video comes without audio.
You may receive error message when downloading Facebook video from Chrome.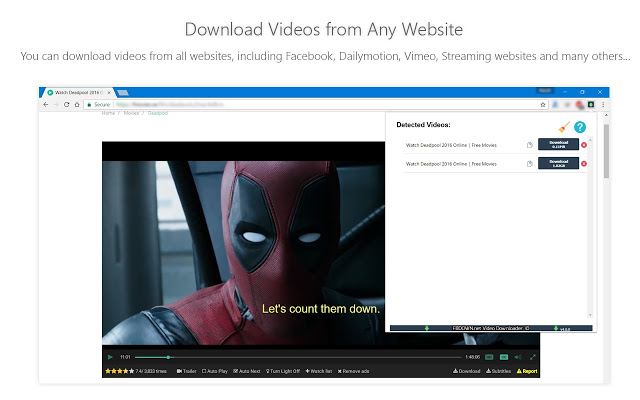 Offered by: Video Downloader Premium
Rating: 4.5
Users: 100,000+
Video Downloader Premium is an easy-to-use Chrome extension for downloading videos from any sites. It lets you download the videos in various formats such as MP4, 3GP, MOV, FLV, AVI, WMV, ASF, SWF, Webm, etc. It provides the facility of detecting video resolution, choosing the quality and size at your disposal, saving multiple files simultaneously.
Another great feature of the video downloader Chrome extension is it can record live streams on most popular platforms.
Pros:
Various file format supported.
Record live streams.
Cons:
Change your default search settings.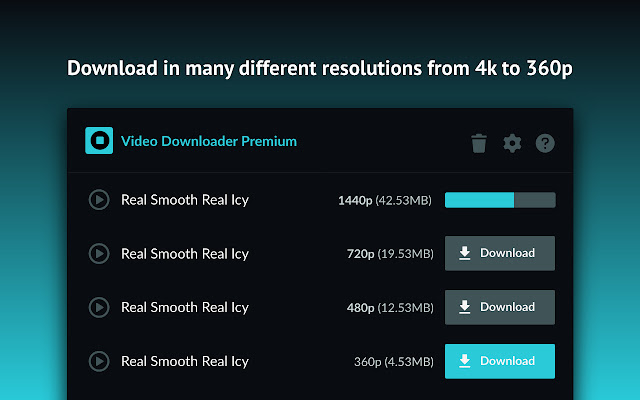 Offered by: Skyload
Rating: 4
Users: 70,000+
If you are planning to install a video downloader extension in Chrome with a lot of features, Skyload's Video Downloader is a good option. Skyload works phenomenally well for social networks, TV channels, video hosting sites and many others. You are allowed to download files in your preferred quality, size, bitrate, and audio. Customizable settings are available for you to change the language, and disable extension. You can also play the video or audio files before downloading with the built-in player.
Pros:
Packed with built-in player.
Cons:
No option to rename files before downloading.
Contain ads and affiliate embedding.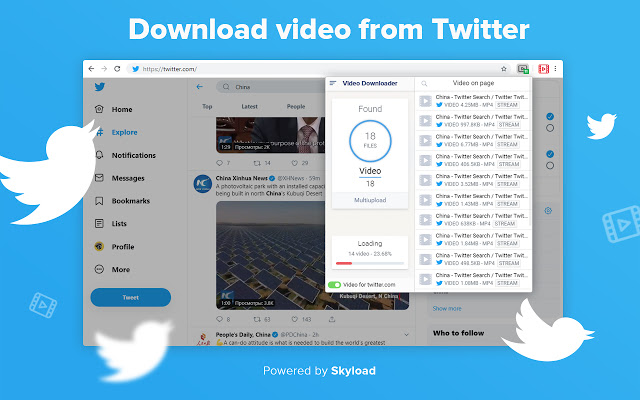 Be Cautious of the Potential Hazard of Video Downloader Chrome Extensions
The above-mentioned Chrome video downloader extensions are easy to use and offers more flexibility. If you are not intended to download software on your PC, you can try the plug-ins mentioned above. However, there are some potential hazards you need to take into consideration before installing the extension in chrome.
They may leave your site vulnerable. Not all video downloader for Chrome extensions are updated regularly or built to the highest standards, which may leave your site vulnerable to serious attacks. Plus, some integrations may contain pops up or affiliate embedding.
The function is limited. Part of the trade-off with using the Chrome extension is that you are limited to a few options and settings. For example, most Chrome extensions cannot download 2K or high quality 4K video.
They may slow down your page speed. The video downloading plugin may affect page speed since it requires additional CSS and JS files. So your site has to load more assets each time you visit the page. That is a reason to stick with desktop video downloader software.
So before installing the Google Chrome video downloader extension, we suggest you use the least amount of extensions as possible, stick with only the extensions that meet your requirement. For a safer video download and make further video convert, edit or compress, regardless of the video resolution, format, codec, or file size, we highly recommend your download a desktop video converter on your PC. MPXSoft Video Converter is a solid video downloader, with which not only can you download 4K/HD/SD videos from 1000+ video portals, but also convert, compress, cut, and edit your downloaded videos at your disposal, without putting your computer into risks.
FAQ about Video Downloader Chrome Extensions
1. How do I download video from Google Chrome?
To save a video on your computer, just follow the steps below.
Open Chrome on your computer.
Go to the webpage where you want to download the video.
Point to the video. Click Download button.
If asked, choose where you want to save the file and click Save.
If there is no download button, just check one of the video downloader extensions or resort to a video downloader program for help.
2. How do I enable video downloader in chrome
If you just want an extension to download video in Chrome browser, here take installing Video Downloader Professional in Chrome for example.
Visit the Video Downloader Professional extension on the Chrome web store.
Click the Add to Chrome button once open.
Click Add extension.
After the installation, a green download arrow appears in the top-right corner of the window if the video is available to download. Click it to enable the video downloader.
3. Is it legal to download video from Chrome?
It's illegal to make a copy of content if you don't have the permission of the copyright owner according to the U.S. copyright law. So downloading copyrighted videos without permission from the original owner is not encouraged.
4. What is the best video downloader for Chrome?
The best video downloader extension for chrome will be totally free of use without any ads. It will allow you to download videos from any websites, support the most common video format like MP4, MOV, MKV, WebM and more and video quality from 480p, 720p, 1080p to 4k 2160p. You can also download multiple clips at a time, and all the jobs can be done easily, in just one fell swoop.