4 Methods to Download MP4 Videos
Today, the internet is brimming with a wealth of video resources. Among these, there are many that we wish to download for offline viewing or to use in our presentations, lectures, and more. So, how can we download these videos and save them in the MP4 format which is highly compatible and widely recognized across devices and media players? In this article, we will guide you through 4 methods for downloading MP4 videos.
Important notice: Before diving into the methods of downloading MP4 videos, it's crucial to understand the legal aspects. The most important concept to grasp is copyright. Most videos are protected by copyright law, which means you can't download or distribute them without the creator's permission, unless it falls under a fair use exception.
Method 1. Download MP4 Videos with Desktop-based Software
Many desktop applications are designed specifically for this purpose and offer a range of features to enhance the downloading experience. One popular MP4 downloader among these is WinX YouTube Downloader, a 100% free video downloader. It allows you to download videos from more than 300 websites as MP4 format. Noteworthy among its supported platforms are YouTube, TikTok, Reddit, Facebook, Vimeo, Instagram, Twitch, and many more. Free as it is, it is clean and safe to use.
Now, you can free download it and follow the steps below to try downloading a desired video as MP4 format.
Step 1. Locate your desired video.
Begin by finding the video you wish to download. Copy its URL. In our example, we'll illustrate the process using a YouTube video.
Step 2. Launch WinX YouTube Downloader.
Open WinX YouTube Downloader on your desktop. Now, at the upper left corner, you'll spot the 'Add URL' button. Click this button, and a window will appear where you can paste and analyze the video URL you've just copied.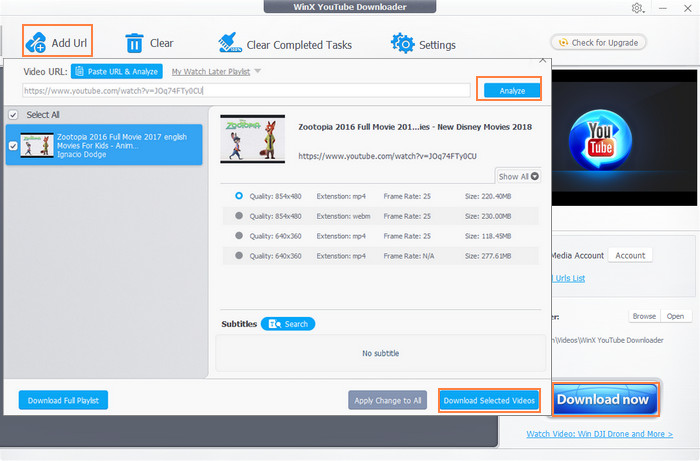 Step 3. Choose output format and quality.
Once the analysis is complete, a selection of output options will be displayed, each with varying quality, format, frame rate, and file size. Simply choose the one that best aligns with your preferences. Then, click the 'Download Selected Videos' button.
Step 4. Initiate the download.
To set the download in motion, head to the bottom right corner of the main interface and click the 'Download Now' button. The video download process will commence.
With WinX YouTube Downloader and these straightforward steps, you can swiftly and efficiently obtain your desired videos in the popular MP4 format.
Method 2. Download MP4 Videos with Browser Extensions
Downloading MP4 videos using browser extensions is a quick and convenient way to save online videos for offline viewing. These extensions are available for various web browsers and simplify the download process.
Here are a few popular browser extensions for video downloading:
Video DownloadHelper (Chrome/Firefox/Edge): This extension is available for Chrome, Firefox, and Edge, and allows you to download videos from a wide range of websites.
Video Downloader Professional (Chrome): This Chrome extension simplifies video downloading, providing options to choose quality and format.
You may want to read: Best 3 Free YouTube Downloader Chrome Extensions
To download MP4 videos with a browser extension, just follow these steps.
Step 1. Choose a browser extension.
Select a browser extension suitable for your web browser. In our example, we'll illustrate the process using Video DownloaderHelper on Chrome.
Step 2. Install the extension.
Go to your browser's extension store, select an MP4 downloader extension, and click the "Add to Chrome" button to install it. Follow the on-screen instructions to complete the installation.
Step 3. Navigate to the video.
Go to the web page where the video you want to download is located. Start playing the video.
Step 4. Select quality to download.
Once the video is playing, the extension icon within your browser (typically located in the toolbar) will become active. For instance, in the case of Video DownloadHelper, the icon will transition from grayscale to color. Click the extension icon to access the video quality and format options. Select the desired quality for your download. Once the download is complete, you can find the downloaded MP4 video in the folder you specified during the download process. Method 3. Download MP4 Videos with Online Tools
Downloading MP4 videos using online tools is a simple and accessible method that requires no installation of software or browser extensions. These web-based tools are convenient for quickly saving online videos for offline viewing. Online MP4 downloaders are typically accessible from any web browser, making them versatile for users on various devices and platforms.
There are many online tools for downloading MP4 videos, such as Youtubemp4, SSYouTube, SaveTheVideo, Ummy, and AnyDownloader.
Now we will use Youtubemp4 as an example to demonstrate how online MP4 downloaders work.
Step 1. Copy the video URL.
Open the video you wish to download and copy its URL in your web browser's address bar.
Step 2. Paste the URL.
Now, access the Youtubemp4 website. You'll spot a designated field labeled "Search or paste link here..." on the Youtubemp4 interface. Simply paste the video URL you copied in the previous step into this field.
Step 3. Select desired resolution to download.
Youtubemp4, like many MP4 video downloaders, offers a selection of output options with different resolution. You can typically select the desired resolution, ensuring the video quality meets your expectations, and then click the Download button to begin downloading the video in the MP4 format. Method 4. Download MP4 Videos with Mobile Apps
If you want to download MP4 videos directly to your mobile device, you can make use of mobile apps. Both Google Play and the Apple Store offer a plethora of MP4 video downloading apps.
To illustrate, let's consider the Video Downloader app developed by InShot.
Step 1. Install the app.
Open Google Play, search for the Video Downloader app by InShot, and then install the app on your mobile device by following the straightforward on-screen instructions.
Step 2. Seamless video detection.
Once the app is installed on your Android device, it immediately springs into action, expertly detecting videos on your mobile. This automated feature simplifies the download process, allowing you to grab your favorite videos with just a single click. Step 3. URL-based downloads.
The Video Downloader app goes the extra mile by offering the flexibility to download videos using their URLs. Simply paste the video's URL into the app, and it efficiently manages the download process. Final words
In conclusion, we've explored four versatile methods to download MP4 videos, catering to your needs for offline viewing, presentations, or any other purpose you may have in mind. Whether you're using Windows, Mac, iPhone, iPad, or prefer online tools, there's a solution that suits your preferences. You now possess the knowledge and tools required to obtain videos in the MP4 format.
However, it's essential to be responsible when downloading and using video content. Please remember not to download or distribute copy-protected videos, respecting the intellectual property rights of content creators and upholding ethical standards in the digital world. Download responsibly and enjoy your video content legally and ethically.