A Comprehensive Guide to Download Twitch Videos (VODs & Clips Incl.)
In the ever-evolving realm of online content, Twitch stands out as a powerhouse for live streaming and video sharing. It offers more than just the ability to watch or participate in live gaming; it also provides an opportunity to glean strategies from fellow gamers. However, a Twitch VOD broadcast from the past is limited to a maximum saving duration of 14 days. Turbo subscribers and members, however, enjoy an extended storage period of up to 60 days. Additionally, VODs are preserved in FLV format during this time, rendering them unplayable on mobile devices, consoles, and other platforms.
Moreover, Twitch is planning to ditch the Twitch app from the Nintendo Switch, certainly including the removal of the much-loved Clips. Users are seeking alternative ways to preserve their favorite moments. For a variety of reasons, there is a necessity to download Twitch videos into MP4/MP3 formats through a Twitch video downloader. In this article, you'll find 4 effective ways to download Twitch videos.
Please note that downloading copyrighted content without permission is illegal and unethical. Always seek the owner's consent or use these methods responsibly for your own content or public domain material.
Looking to Download Twitch Videos? Try MPX Media Catcher Now!
Want to store and relish your preferred Twitch VODs or clips without an internet connection? Look no further! MPX Media Catcher presents the ultimate solution, allowing you to effortlessly download Twitch videos and enjoy them at your convenience, wherever you are.
Intuitive Interface: Simplify the download process for users of all levels, whether they're beginners or tech enthusiasts.
High-Quality Downloads: Revel in the best resolution for your Twitch videos, ensuring a premium viewing experience.
Fast and Efficient: Download Twitch video at at 5-8x realtime speed to save your precious time.
Secure and Reliable: MPX Media Catcher is a reputable software with a clean track record. Your privacy and security are our top priorities.
Part 1. How to Download Twitch Videos Using MPX Media Catcher
In Twitch app, you can not only view the videos you uploaded, but also Twitch streams of other users. To save these Twitch streams offline, you can try a third-party Twitch video downloader like MPX Media Catcher.
MPX Media Catcher owns a intuitive and users-friendly interface, making it breeze both for the beginners and experienced to download Twitch videos. It's able to download high quality Twitch streams at blazing fast speed. Moreover, users don't have to worry about the security issues when downloading videos form twitch.tv.
Step 1: Head to MPX Media Catcher, acquire the software at no cost, and install it on your computer or device.
Step 2: Navigate to https://www.twitch.tv/ and find out a VOD or a clip, after which copy its URL.
Step 3: Open MPX Media Catcher, click "Add URL" button.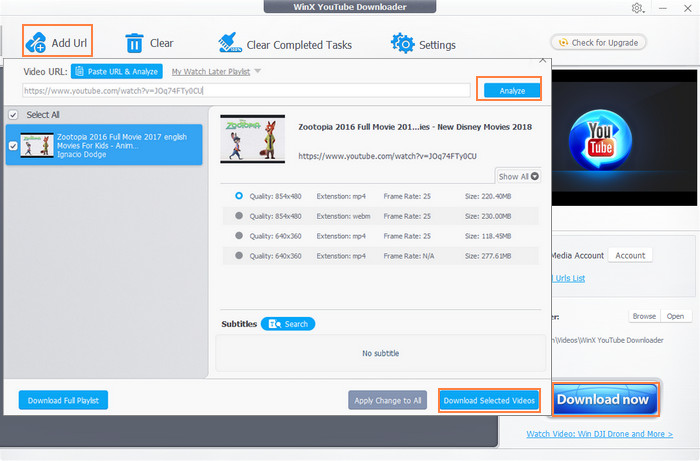 Step 4: Paste the video URL into the designated field, and customize the settings according to your preferences.
Step 5: Simply click "Download." It's as straightforward as that!
=>> suggested reading: download Vimeo videos free with 3 clicks
See also: Free Download YouTube Shorts Videos without Watermark
Part 2. How to Download Twitch Video Usings Browser Plugins
Browser plugins offer a convenient way to download Twitch videos directly from your web browser. Extensions like Twitch Video Downloader for Chrome and Firefox allow users to capture streams and clips effortlessly. Simply install the plugin, navigate to the Twitch video you want to download, and initiate the download with just a few clicks. Let's check how to download Twitch video on Chrome and Firefox using extensions.
Twitch Video Download Chrome
In the realm of Google Chrome extensions, none surpasses the efficacy of Twitch VOD Downloader when it comes to downloading Twitch videos. This extension empowers users to download specific segments of a Twitch VOD directly or the complete long video in one click within the browser. Users can access the 20 most recent streams, and the extension now even supports the viewing of deleted VODs directly from the browser.
Steps on how to download Twitch VODs with Chrome Extension:
Step 1. Search "Twitch VOD Downloader" extension on Google Chrome. Open and install it on Chrome.
Step 2. Move to Twitch website, click on Twitch VOD Downloader icon.
Step 3. You will find that all videos have a option of "View/Download this VOD without Ads". Just click it to download twitch video with this Chrome extension. Twitch Video Download Firefox
If you're using Firefox, it's strongly advised to opt for Twitch Clip Downloader by Ravenbtw. This extension conveniently places a download icon beneath all videos, facilitating easy saving of any content. However, there is a limitation to downloading videos, capped at 30 minutes each time. This means you may need to perform multiple downloads for longer Twitch videos.
Step 1: Launch Firefox and install the Twitch Video Downloader Firefox add-on.
Visit the Twitch website, where you'll notice that all videos, excluding live streams, are labeled with "Download Clip" or "Download VOD" beneath Twitch Clips or VODs.
Open the video you want to download and click the "Download Clip" or "Download VOD" button.
If opting for a VOD, select your preferred video quality and proceed to download the entire video in separate 30-minute segments. Part 3. How to Save Twitch Clips with Online Twitch Video Downloader
Numerous online Twitch video downloaders cater specifically to Twitch VOD video or clip video downloads. Websites like Clipr.xyz and untwitch.com offer a web-based solution where users can paste the Twitch video URL and download the content hassle-free. These platforms are accessible across various devices, making them a versatile choice for users on different operating systems. Let's check some excellent online Twitch video downloaders and how to download Twitch streams with them.
Untwitch.com
UnTwitch.com is a free online Twitch VOD downloader with a straightforward and neatly arranged interface, making it a breeze to download Twitch videos seamlessly. Simply paste the VOD URL into the input field, and it will furnish you with essential information along with various quality choices. Moreover, if you're aiming to download a Twitch video that exceeds an hour, you'll need to manage the time and segments, downloading the complete video in multiple sessions. This is due to the restriction of downloading a maximum of 360 segments per single download.
Follow the step-by-step guide below to learn how to utilize it to download videos from Twitch effortlessly.
Step 1. Head over to the Untwitch official site and grab the video URL.
Step 2. Hop onto UnTwitch.com, paste that URL you just nabbed into the URL input box.
Step 3. Hit the "SUBMIT" button to kick off the analysis process.
Step 4. Once the video analysis is complete, pick your preferred resolution from the quality box dropdown (ranging from 160P to 1080P).
Step 5. Finally, hit the "Download Video" button to download you preferred Twitch video on your local device. Clipr.xyz
Clipr stands out as the most user-friendly and dependable Twitch clip and video downloader available online. It is committed to delivering an excellent user experience while ensuring a consistently reliable service. For Twitch streamers looking to optimize their FPS, hosting game servers on a Gaming VPS, such as Clipr's Evolution Host Game VPS, is an ideal choice. This VPS facilitates the effortless saving of high FPS Twitch streams without compromising on quality.
How to download Twitch video with Clipr.xyz
Step 1. Visit the official Untwitch website and copy the Twitch video URL that you want to download.
Step 2. Back to Clipr.xyz, paste the copied URL into the designated box above
Step 3. Press the "Download" button. Voila! Simply save the video, and you're good to go. Part 4. How to Directly Download on Twitch
On Twitch.tv, whether you're a regular Broadcaster, a Partnered user, or a Turbo Subscriber, the timeframe to preserve Twitch videos ranges from 14 to 60 days. Fortunately, there's a fantastic option available – you can directly download your own broadcasts and highlights to your personal computer, ensuring they are kept permanently.
Step 1. Log in to your Twitch channel and click your channel name at the top right.
Step 2. From the drop-down menu, select Settings, then go to Channels and Videos.
Step 3. On the Channel page, click "Stream" in the left menu and enable "Store past broadcasts" in VOD Settings to automatically back up all your videos.
Step 4. Hover over the left navigation bar, click "Content," then choose "Video Producer" and select "Past Broadcast" from the drop-down.
Step 5. Alternatively, click your channel name on the homepage, choose "Video Producer" to access the same page. Locate the video you want to download, click "Download" or find a "Begin Download" link.
Note: Larger videos may show "Preparing Download" instead of "Begin Download." In Conclusion:
There are several effective methods for downloading Twitch videos, catering to various preferences and devices. Third-party software like MPX Media Catcher and browser plugins such as Twitch Video Downloader offer user-friendly options. Online tools like Clipr.xyz and Untwitch.com provide convenient web-based solutions. Additionally, Twitch itself allows direct downloading of broadcasts through the Video Producer feature. Each approach caters to different needs, ensuring users can save and enjoy their favorite Twitch content seamlessly.